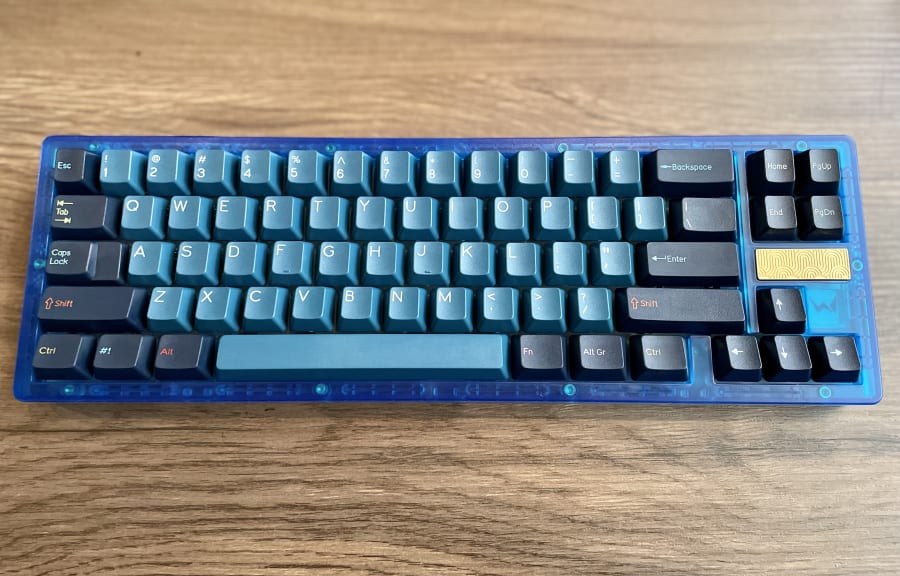 Ikki68 Aurora is an affordable, injection molded, polycarbonate case, gasket-mount keyboard kit from Wuque Studio, the people behind Ikki68, OA Switches and more!

Every Aurora comes with a multi-layout, hot swap PCB powered by QMK and VIA. You can choose any or all of the following: split backspace, split right shift, split left shift, split spacebars and ISO enter…no soldering required!

The Aurora uses a variable gasket structure where you can choose how many mounting points to use in order to adjust the amount of bounce / firmness to your liking. You can also customize the keyboard with one of many extra badge designs in several different colors!
This board is great bang for your buck, with a lot of configuration options with regards to mounting points – it also has custom badges for more personalization.
For this build I used some Akko Diced Fruit Kiwi switches that I won from a raffle at a meetup I attended from a while back. The switches came lubed and filmed, so that saved me a fair chunk of time. I really like the feel of these switches, very smooth to type on yet still being tactile – you still feel that bump that let's you know your keypress has been registered.
As for the keycaps, the DCS Solarized Dark really fits in well with the blue polycarbonate case. I'm a big fan of the color theme, and just had to get these – one thing to note is that the keycaps are quite a bit thinner than the others that I have used though the overall look and feel is good.
Keyboard layout is a standard-ish 65%, with some common customizations I configured for most of my other boards:
Caps Lock remapped as soft escape (Esc when held, Ctrl when tapped)
Vim-style arrow keys
Media player controls
As well as home-row modifiers which I've adopted to all my other boards (since building the NCR-80).
# left side modifiers


MT

(

MOD_LCTL, KC_S

)

, MT

(

MOD_LGUI, KC_D

)

, MT

(

MOD_LALT, KC_F

)





# right side modifiers


MT

(

MOD_RALT, KC_J

)

, MT

(

MOD_RGUI, KC_K

)

, MT

(

MOD_RCTL, KC_L

)